Why Choose a Pediatric Dentist?
What Is a Pediatric Dentist?
A pediatric dentist is a dental care professional that offers all the same services as a dentist for adults. These include checkups, cleanings, fillings, crowns, and sealants. Pediatric dentists are responsible for the prevention, detection, and treatment of any oral issues.
The training for a pediatric dentist is similar to that of a general dentist. First, they have to get a bachelor's degree that fulfills the requirements of the dental school they wish to go to. Then, they must get a Doctor of Dental Surgery or Doctor of Dental Medicine, which takes at least four years of schooling.
After schooling, pediatric dentists have to do two years of residency to gain experience in their field. Once residency is complete, they can take exams to get licensed.
What Are the Benefits of Going to One?
Adults and children alike have a common fear of going to the dentist's office. The strange smells and scary drill noises, plus painful experiences in the past can induce enough anxiety that people put off vital visits.
Forming a good association with the dentist at a young age is crucial in your children's development. This is why it's important for them to see a dentist that specializes in taking care of patients like them.
Here are a few benefits your kids can get from going to a pediatric dentist.
A Welcoming Environment
You may have noticed that most dental offices look quite sterile and medical. Your children may be intimidated by such an environment and this can cause further distress and bad memories tied to the dentist.
In a pediatric dental office, the practice caters specifically to young children, which means they'll have bright and cheery walls painted with cute designs, such as animals and fantasy worlds. This will help your children feel comfortable in that setting and calm any phobias.
Staff Are Trained to Deal with Children
How many times have you been to your dental appointment and was coldly brushed off by either the receptionist, nurses, or the dentist themselves? As an adult, you're better equipped emotionally to let it slide, and you don't let that put you off from going to the dentist again.
But children may feel scared in an unfamiliar place, and when the people there treat them unkindly, it can compound on the fear of dental offices. In a pediatric dentist's practice, all of the staff members are properly trained to deal with children to ease any fears or discomfort.
Even if your kids become hysterical, the staff will remain calm and use effective soothing techniques to calm them down. This can be especially helpful if your children have special needs; pediatric dental staff should be trained in using the right methods to soothe issues such as ADHD or autism.
Pediatric Dentists Specialize in Caring for Primary Teeth
You may think that primary teeth (or baby teeth) don't need any looking after; they'll fall out and adult teeth will replace them, after all. But the fact is, not all primary teeth fall out!
If there are any problems with your children's primary teeth, their pediatric dentist will know how to deal with them without causing further damage. Baby teeth have a different composition to adult teeth (thinner enamel), so regular dentists may not be able to address issues as effectively as a pediatric one.
Pediatric Dentists Make Oral Care Fun
No one finds brushing and flossing exciting, including kids. But pediatric dentists can teach your children good habits by incorporating fun lessons.
Children tend to listen to authoritative figures rather than their own parents, so it's vital you choose a pediatric dentist that you feel they'll look up to. If you pick a dentist that's a good fit for your family, you'll be surprised at just how eager your kids are willing to go through daily routines for oral hygiene.
They Can Minimize Pain and Fear
It's almost inevitable that your kids will get cavities at some point. When this time comes, you want a caring, patient dentist to handle the treatment. Your children may be squeamish and cause the filling procedure to start and stop constantly; you don't want the dentist to chastise them for doing so.
A pediatric dentist will be experienced in handling these treatments for children and will be kind and reassuring throughout the whole thing. Your children's first memories around cavity fillings can contribute to their overall feelings about dental practices; by choosing a pediatric dentist, you can ensure they have positive experiences all around.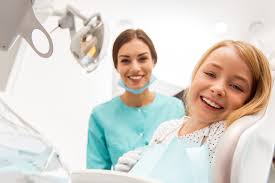 What does a pediatric dentist do?
Pediatric dentistry offices are colorful, fun, and child-friendly. Dental phobias are often rooted in childhood, so it is essential that the child feel comfortable, safe, and trusting of the dentist from the outset.
The pediatric dentist focuses on several different forms of oral care:
Prevention
Tooth decay is the most prevalent childhood ailment. Fortunately, it is almost completely preventable. Aside from providing advice and guidance relating to home care, the pediatric dentist can apply sealants and fluoride treatments to protect tooth enamel and minimize the risk of cavities.
Early detection
Examinations, X-rays, and computer modeling allow the pediatric dentist to predict future oral problems. Examples include malocclusion (bad bite), attrition due to grinding (bruxism), and jaw irregularities. In some cases, optimal outcomes are best achieved by starting treatment early.
Treatment
Pediatric dentists offer a wide range of treatments. Aside from preventative treatments (fluoride and sealant applications), the pediatric dentist also performs pulp therapy and treats oral trauma. If primary teeth are lost too soon, space maintainers may be provided to ensure the teeth do not become misaligned.
Why See a Pediatric Dentist?
Pediatric dentists (or pedodontists) are qualified to meet the dental needs of infants, toddlers, school-age children, and adolescents. Pediatric dentists are required to undertake an additional two or three years of child-specific training after fulfilling dental school requirements.
In addition to dental training, pediatric dentists specifically study child psychology. This enables them to communicate with children in an effective, gentle, and non-threatening manner.
The American Academy of Pediatric Dentistry (AAPD) recommends that children see a pediatric dentist before the age of one (or approximately six months after the emergence of the first primary tooth). Though this might seem early, biannual preventative dental appointments are imperative for excellent oral health.
Parents should take children to see a pediatric dentist for the following reasons:
To ask questions about new or ongoing issues.
To discover how to begin a "no tears" oral care program in the home.
To find out how to implement oral injury prevention strategies in the home.
To find out whether the child is at risk for developing caries (cavities).
To receive information about extinguishing unwanted oral habits (e.g., finger-sucking, etc.).
To receive preventative treatments (fluorides and sealants).
To receive reports about how the child's teeth and jaws are growing and developing.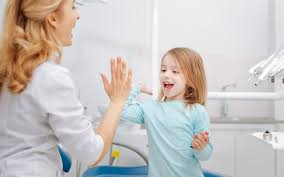 Tips For Your Child's First Dentist Visit
Every child has unique needs, but all of them deserve to be treated with care, compassion, and empathy. At Dentistry for Children, P.C., we're committed to creating the most positive pediatric dentist experience possible for each patient we see. Some children may exhibit anxiety or fear when it comes to visiting the dentist, but rest assured that our entire team is focused on helping your children overcome their anxieties. Below, you'll find a few helpful tips for planning an awesome visit.
Be positive. Don't let your child know of any anxiety you may have about dental visits.
Set an example at home by practicing good dental habits. If your child is no longer an infant, it's helpful if you encourage him or her to look forward to their first visit. Reading books together, accompanying an older sibling, or simply talking about the fun one has at the dental office can go a long way toward allaying any anxiety your child may have.
Don't over-explain. Leave the talking to us! We use children's dental words and have special, non-scary ways of explaining treatment to your child. Don't purposely mislead your child. At the same time, don't give your child more information than he or she is able to understand. By all means, avoid using words like "hurt," "drill," "x-rays," or "shot." Avoid comments that may appear to be reassuring, such as, "Don't worry, the doctor won't hurt you." Such comments actually make your child more anxious rather than less. After all, your child knows that when anticipated experiences are really fun, you never say that.
Allow your child to go into the treatment area alone. Many studies, along with decades of evidence, have shown that most children over the age of three react more positively when permitted to experience the dental visit on their own. If we feel that your child may benefit from coming into our treatment area alone, we will discuss this as an option before proceeding. We welcome parents that wish to accompany their children into our treatment area, as in many cases, this can help with your child's anxiety. We may, however, ask that you be a "silent partner" and sit by quietly. This gives our dentists the opportunity to establish communication and trust directly with your child.
Understanding the Need for Pediatric Dentistry
Children differ vastly from adults in many ways. From the size of their bodies to their rapidly growing teeth, they require specialized care from practitioners who are specially trained to respond to their diverse needs. This is why pediatric dentists receive extensive, additional training specifically focused on those unique dental care requirements of babies, children and teens. Pediatric dentists have become an essential addition to a child's healthcare team to build a strong, healthy foundation for their teeth and overall health.
Babies, children, and teens all require a specifically trained dental eye. From a baby's teething process within the first year of life to the appearance of the final molars in their teen years, pediatric dentists are there to help both children and parents navigate the changes and challenges of dental development.
With additional years of specialized training after completion of dental school, a pediatric dentist can identify and help prevent treatable problems like baby bottle tooth decay, dental-related speech problems, cavities in the primary teeth, or other factors which may affect the development of the permanent teeth. They can offer advice such as what kinds of liquids are okay before bed, or how to brush a baby's teeth. Regular pediatric dental checkups also set the stage for great dental health into adulthood.